Neptune to build salmon delousing barge for Cermaq Canada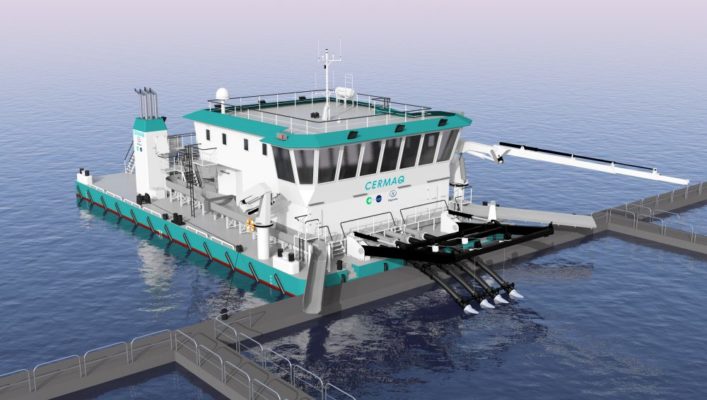 Canadian salmon farm company Cermaq Canada has contracted Neptune Marine to build a new salmon delousing barge. The non-self-propelled vessel will be equipped with a 100% environmentally friendly Hydrolicer fish delousing system.
Cermaq Canada is based in British Columbia, Canada. It farms Atlantic salmon at 28 sea sites around the coast of Vancouver Island. The company is part of Cermaq, a globally operating salmon farming business that also has operations in Chile and Norway.
Neptune will build the 31-metre long barge – called a Euro Special Purpose Pontoon – at its yard in Aalst, the Netherlands. Delivery is scheduled for Q1 2019.
"We are very excited about the prospect of deploying an unquestionably, environmentally sound solution to sea lice management. We chose Neptune because of their commitment to people, environment and fish friendly innovation", states Linda Sams Cermaq Canada Sustainable Development Director. " We are committed to operating at Best Practice and protecting the oceans in which we farm."
Mechanical delousing
Cermaq Canada will use the new vessel to combat the problem of fish lice infestation of salmon stocks; a problem faced by aquaculture companies the world over. Fish lice affect the welfare, as well as the quality, of the harvested fish.
Fish delousing will be carried out using Hydrolicer equipment from the Norwegian company of the same name. This technique, developed in cooperation with CFlow Fish Handling, uses seawater under pressure to gently dislodge the fish lice. Because no chemicals are used, the method is 100% pollution-free and thus environmentally friendly.
The Hydrolicer system can handle 50 tonnes of fish per treatment line. Cermaq's vessel will be initially installed with four lines, with space for an additional two if required.
Track record
Furthermore, the combination of Hydrolicer's delousing system and a Neptune-built vessel has already yielded successful results. "We delivered a fish delousing barge with Hydrolicer equipment last year," says Paul Kriesels from Neptune Marine. "It is a great example of the cooperation between Hydrolicer, Cflow and Neptune – a combination that has a proven track record with excellent production figures."
In terms of manual control systems, Neptune has paid attention to achieving efficient operations. "We have designed this vessel so that fish handling operations and the control of ship's systems can be performed from one operator's chair. This will allow Cermaq personnel to prioritise their tasks effectively – and focus fully on the fish."
Human aspect
The logistics of Cermaq Canada's salmon farming operations means that their crews will not only work on the vessel, but they will also sleep on board. Neptune will therefore be making the living accommodation as comfortable as possible as well as ensuring that the vessel is self-sufficient. To accomplish this independence from shore-based supplies, the vessel will have water making and energy generation capacity.
"We are very pleased to welcome Cermaq Canada as a new client," adds Kriesels. "We understand the needs of the aquaculture industry and, by working once again with Hydrolicer and Cflow, we are looking forward to demonstrate our skills with systems integration."
About Cermaq Canada
As part of our Environmental Policy, Cermaq Canada is committed to minimizing the environmental impact of our activities during any stage of salmon production, to ensure a sustainable aquaculture operation for our First Nations Partners, stakeholders – our customers, our suppliers, our employees and the communities in which we operate.
Cermaq Canada is the Second largest aquaculture company in BC with their Head Office located in Campbell River, BC.
About Neptune Marine
Neptune is a specialized supplier of marine solutions in the Netherlands. Our main activities are shipbuilding, ship repair, conversion, and (de)mobilization since our start in 1972. We deliver solutions for various maritime projects from our locations in the Netherlands: Hardinxveld, Aalst and Groningen.
We design, build, repair, convert and mobilize vessels and equipment for the maritime industry including offshore, renewables, marine infrastructure and aquaculture. It is our aim to offer you the best solution through creativity, cooperation and flexibility. In other words, we work together.
Neptune – Marine solutions that work for you