Are you searching for a pontoon boat? At Neptune Marine we build and maintain all types of commercial boats and vessels to the highest standards. Furthermore, we offer additional services including chartering and renting out equipment. Our team of experienced engineers do not only focus on quality but are always eager on finding the right solutions for our clients and suppliers. Our solutions are versatile, innovative and reliable.
Curious about the things we can achieve? Please contact us via the contact form.
Pontoon Boat | Neptune Marine is your partner!
Whether it is a pontoon boat, tugboat, cargo vessel, aquaculture vessel or a euro carrier. Neptune Marine has all the knowledge to build innovative and robust vessels. With decades of experience, we have the skills and facilities to build these types of vessels in a flexible, high qualitative, efficient way, minimizing low operational costs. All of our products can be delivered in a short period of time. During this process we always put the needs and demands of our customers in first place. Moreover, we are proud of the way we work and can reassure that all of our people work in a safe and sustainable environment (following ISO 9001 and VCA).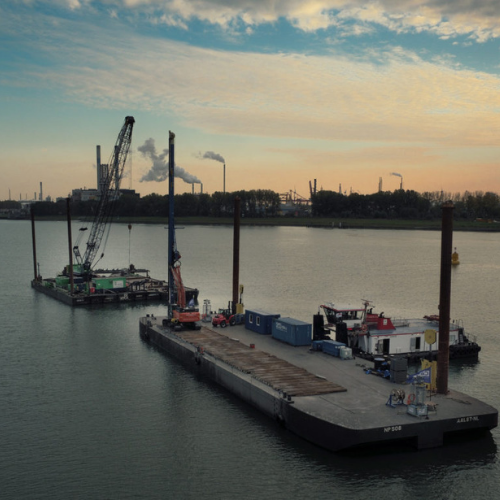 For over 40 years we have been offering versatile maritime solutions. In these years we have expanded and gained additional facilities. We do not only build ships from scratch, but we also offer temporary solutions by chartering equipment. This is ideal when you need equipment for a short-term project. Read more about us on this page.