Are you searching for a company that charters high-quality marine equipment? then Neptune marine is at your service! Our company holds a well-maintained stock of marine equipment that is directly available for charter. From pontoons, jack=ups, barges to deck equipment. We are able to arrange everything you need within a short period of time.
Would you like to know more about the possibilities? Please do not hesitate to contact us!
What kind of deck equipment is available?
At Neptune marine we have different equipment available that can be used on different types of customer vessels, such as: Deck cranes, Anchors, Spud legs and cans, Winches, Generators and Cable laying equipment. If there is anything else, you need we are able to source this within short notice through our network of suppliers and industrial partners.
Would you like to see what the availability of our maritime equipment is? Have a look at this page.
What are the benefits of renting deck equipment?
The benefit of renting marine equipment is that you can easily use the equipment for your short – medium term projects without having to make long-term investments in specialist equipment. We will arrange transport through the European inland waterway network to any distant location. If our clients choose that they would like to keep the marine equipment, we give our clients the option to purchase them afterward.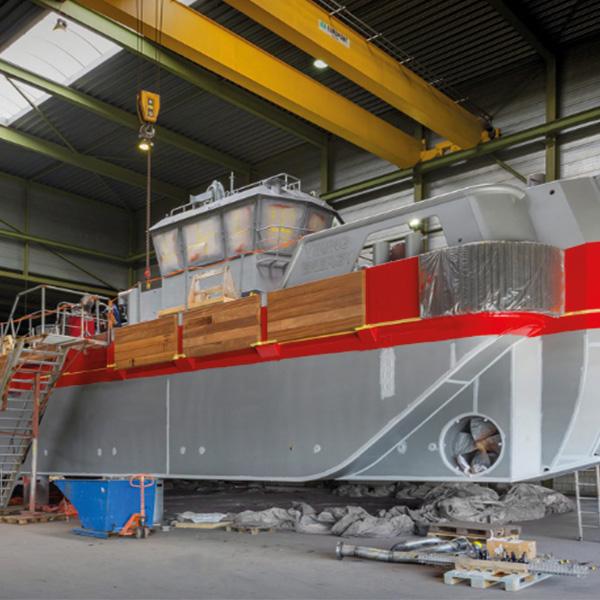 Neptune Marine is next to equipment charter foremost active in shipbuilding and ship repair. We have been building ships since 1972 and have developed our company to make sure we can meet our clients needs. Our goal is to deliver solutions for your maritime projects in a flexible, qualitative, and efficient way, while keeping operational costs low. Due to our experience in building and maintaining vessels we are able to do this for all types of vessels.
Let's get in touch!
Would you like to know more about chartering our marine equipment? Please feel free to contact us. Our experts will be happy to help you with all your questions and assist you with your needs. Leave a message here or call us on +31 (0)184 621423.