Stewart Marine closes deal for Neptune Marine EuroCarrier 2611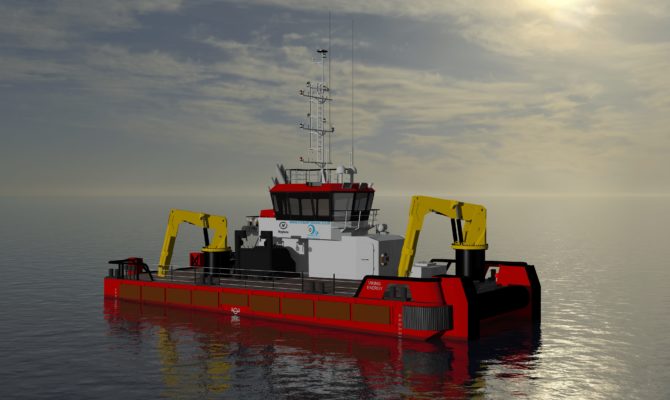 UK-based marine services company Stewart Marine has contracted Neptune Marine to build a new EuroCarrier 2611, which is to be named 'Viking Energy'. To meet Stewart Marine's operational requirements, Neptune will customise the 26-metre long workboat with a DP1 system.
Stewart Marine is based in Fife, Scotland. It offers marine services to the offshore renewables industry around the world. Talking after the contract signing, Owner Graham Stewart, said: "After several years working with Neptune's EuroCarriers, I am very positive about the capabilities of the design – especially the manoeuvrability and handling. Moreover, our crews are very positive about set-up of the vessel."
A bespoke vessel
"As well as my previous experience with EuroCarriers, we chose Neptune because of their flexibility," Stewart continued. "For our project needs, we wanted to add DP1 and modify the deck lay-out and bridge system to just the way we believe it works best. Neptune has been very supportive in this process."
The 'Viking Energy' fits in with Graham Stewart's vision to deliver a broad range of marine services for the offshore renewables industry, including cable lay operations, subsea cable protection and offshore wind farm support.
"Wind and tidal renewable energy is the future and it is our goal at Stewart Marine to be part of many exciting new projects and concepts throughout the industry. Now we have an ideal vessel to offer our clients – the future is exciting and we are all looking forward to the arrival of the 'Viking Energy'," he said.
Years of experience
Neptune Marine has delivered many EuroCarriers throughout the years. "We have over 20 years of experience with (customized) EuroCarriers – they are high-quality and functional workboats that can be found in numerous sectors of the maritime industry," says Paul Kriesels from Neptune.
"We are happy to welcome Stewart Marine as a new client. Their expertise within the maritime industry alongside the experience of Neptune has led to a fit-for-purpose vessel."
The vessel's DP1 installation is a prime example of the close cooperation between Neptune and Stewart Marine. "We have carefully configured this vessel together with Stewart Marine to achieve a truly functional vessel. This will allow vessel and crew to operate safely and effectively – and in various weather conditions."
Cooperation
Neptune will build the new EuroCarrier 2611 at its yard in Aalst, the Netherlands. Delivery is scheduled for April 2019. "On-time delivery can only be achieved by effective communication and flexibility – what Neptune Marine is known for," Kriesels concludes.
About Stewart Marine
Stewart Marine Ltd. offers worldwide marine services to the offshore renewables industry. Based on years of experience and an extensive industry network, Stewart Marine strives to offer excellent operations with the right equipment and know-how.
Stewart Marine Ltd. is based in Fife, Scotland.
About Neptune Marine
Neptune is a specialized supplier of marine solutions in the Netherlands. Our main activities are shipbuilding,
ship repair, conversion, and (de)mobilization since our start in 1972. We deliver solutions for your maritime project from our locations in the Netherlands: Hardinxveld, Aalst and Groningen.
We design, build, repair, convert and mobilize vessels and equipment for the maritime industry including offshore, renewables, marine infrastructure and aquaculture. It is our aim to offer you the best solution through creativity, cooperation and flexibility. In other words, we work together.
Neptune – Marine solutions that work for you