Neptune Marine contributes to major port expansion project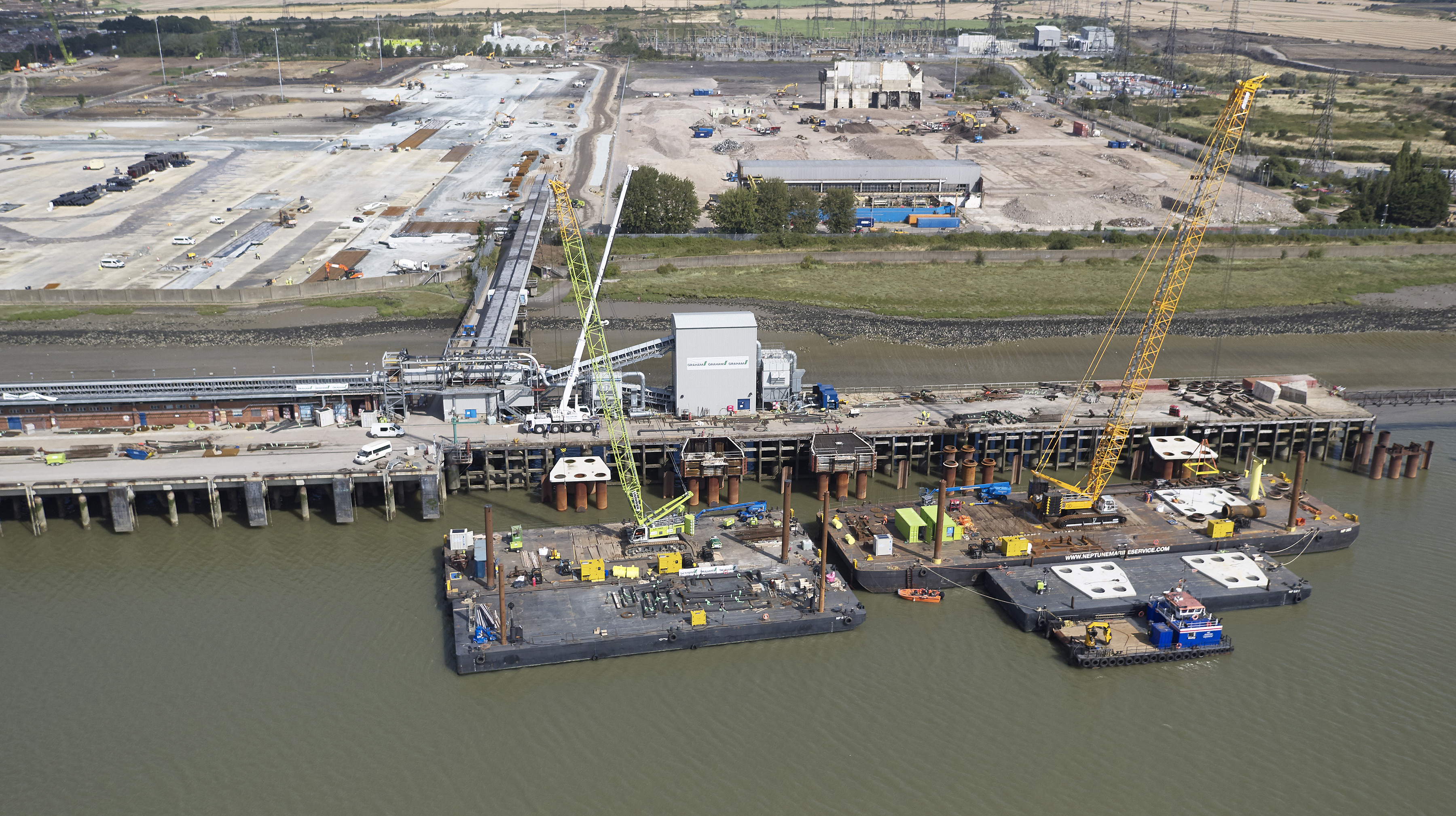 The provider of charter equipment, based in The Netherlands, delivered barges to UK-based construction firm GRAHAM for the expansion of Tilbury2. GRAHAM rented 4 pontoons for the duration of 6 months.
UK's fastest growing port
The Port of Tilbury, regarded as the UK's fastest growing port, is vital in providing fast, modern distribution services to the Greater London Area and the South East of England. Therefore, a new state-of-the-art port terminal is under construction – Tilbury2 and is expected to be operational in 2020.
A diverse scope of work
GRAHAM is delivering both the terrestrial and marine contract. The Marine contract includes works within the tidal estuary beyond the existing sea wall/flood defences, including a floating pontoon, linkspan/articulated bridge, associated pilings and riverbed preparation for the berth.
Neptune Marine offered GRAHAM a fleet of 4 barges in total, ranging from a 40 x 13 metre to a 70 x 22 metre flat-top pontoon. In addition to the pontoons, Neptune Marine rented out their Sany crane, with a max. capacity of 320 tons. All equipment has been mobilized for the British construction firm at Neptune's facilities in the Netherlands before towage.
Range of pontoons available
Neptune Marine operates an extensive fleet of marine equipment, ranging from flat-top barges to deck equipment and jack-up barges.
Over the years, the marine services provider has extended its fleet of marine equipment to over 35 barges. Most of the pontoons, including flat-top barges and multi-purpose pontoons, can be chartered both short- and long-term. In addition, Neptune also have a wide range of deck equipment (crawler cranes, cable carousels and accommodation units) available to complement its client's project needs.
Neptune's marine equipment is hired by contractors and marine operators for a wide range of activities in different industries, for example offshore wind and civil construction.
About Graham Construction
We are specialists in the innovative resolution of complex civil engineering challenges. Across bridges and highways, rivers and railways, our deep rooted expertise transforms the rural and urban landscapes where we operate. Whether it is easing commuter congestion or powering renewable energy, we consistently strive to make a difference so that our work delivers lasting impact to millions of people throughout the UK and Ireland.
About Neptune Marine
Neptune Marine offers a broad range of maritime solutions, including newbuilding, repair, equipment charter and other complementary services. We work with our clients and suppliers to create and deliver solutions that are versatile, innovative and reliable.
Neptune Marine operates from three locations in the Netherlands; Hardinxveld, Aalst and Groningen.
Neptune – Marine solutions that work for you
Images by David Hawkins