Neptune Marine delivers ICE-class EuroTug 3010 to Beluga Projects Logistic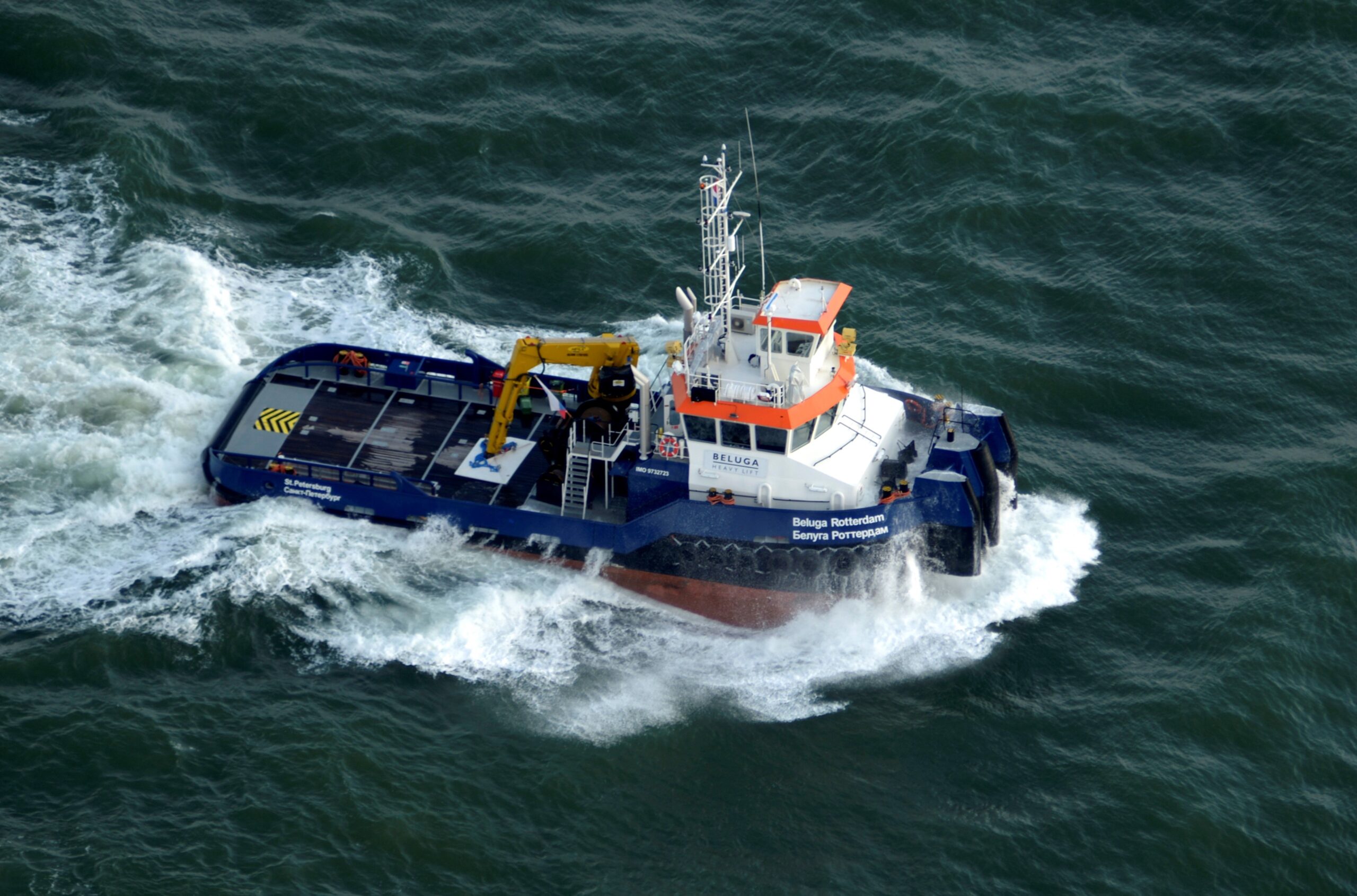 Neptune Marine delivered an ICE-classed EuroTug 3010 to Russia-based Beluga Projects Logistic. The standard EuroTug design has been customized to meet the tough environmental conditions of its operating area and specific equipment for pushing operations. The vessel has been delivered in Q3 2019.
Robust designs
Beluga Projects Logistic operates in extreme weather conditions. Therefore, Neptune Marine was asked to customize a standard design to meet the requirements. One of the most remarkable changes to the standard design is the upgrade to ICE-Class 1B. Besides the strengthened steel structure, the machinery onboard has been carefully selected to comply with all class requirements. Beluga Rotterdam is now able to operate in significant sea ice. Its owners also asked for a specific push bow and extra wheelhouse on top of the bridge for better views from the bridge while pushing.
Bollard pull
The newbuild tug will be used for worldwide towage-pushing operations, anchor handling and also for ice-breaking operations in Russia's northern territorial waters. EuroTugs are designed to perform at their best in both coastal and offshore waters, offering excellent bollard pulls for this type of vessel.
Customized vessels in stock
Neptune Marine stands for customized vessels that can be delivered within a short time frame. The hull of the vessel has already been built in stock, ready for customization and finalization for a client. As soon as there was an agreement between Neptune Marine and Beluga Projects Logistic, the experienced engineering team of Neptune started to include the client's requirements into the final design. The vessel has been delivered in 8 months.
EuroTugs are robust tugs, designed to meet the toughest operational requirements. Its maximum free deck space and notable bollard pull performance have proven their outstanding performance over the years.
About Beluga Projects Logistic
Beluga Projects Logistic is a World player in the logistic playing field. Beluga Projects Logistic is a leading expert in over-sized and heavy load cargo. All equipment is owned by Beluga Projects Logistic and consist of many heavy power and all terrain trucks, mobile cranes, jacking systems up to 15.000MT,  a fleet of barges in different dimensions and now the first Sea-going Tugboat. Beluga Projects Logistic offers their customers reliable and quick service from our headquarters in Moscow and from Rotterdam for our European activities.
About Neptune Marine
Neptune Marine offers a broad range of maritime solutions, including newbuilding, repair, equipment charter and other complementary services. We work with our clients and suppliers to create and deliver solutions that are versatile, innovative and reliable.
Neptune Marine operates from three locations in the Netherlands; Hardinxveld, Aalst and Groningen.
Neptune – Marine solutions that work for you