Neptune Marine launches new water injection dredger Pancho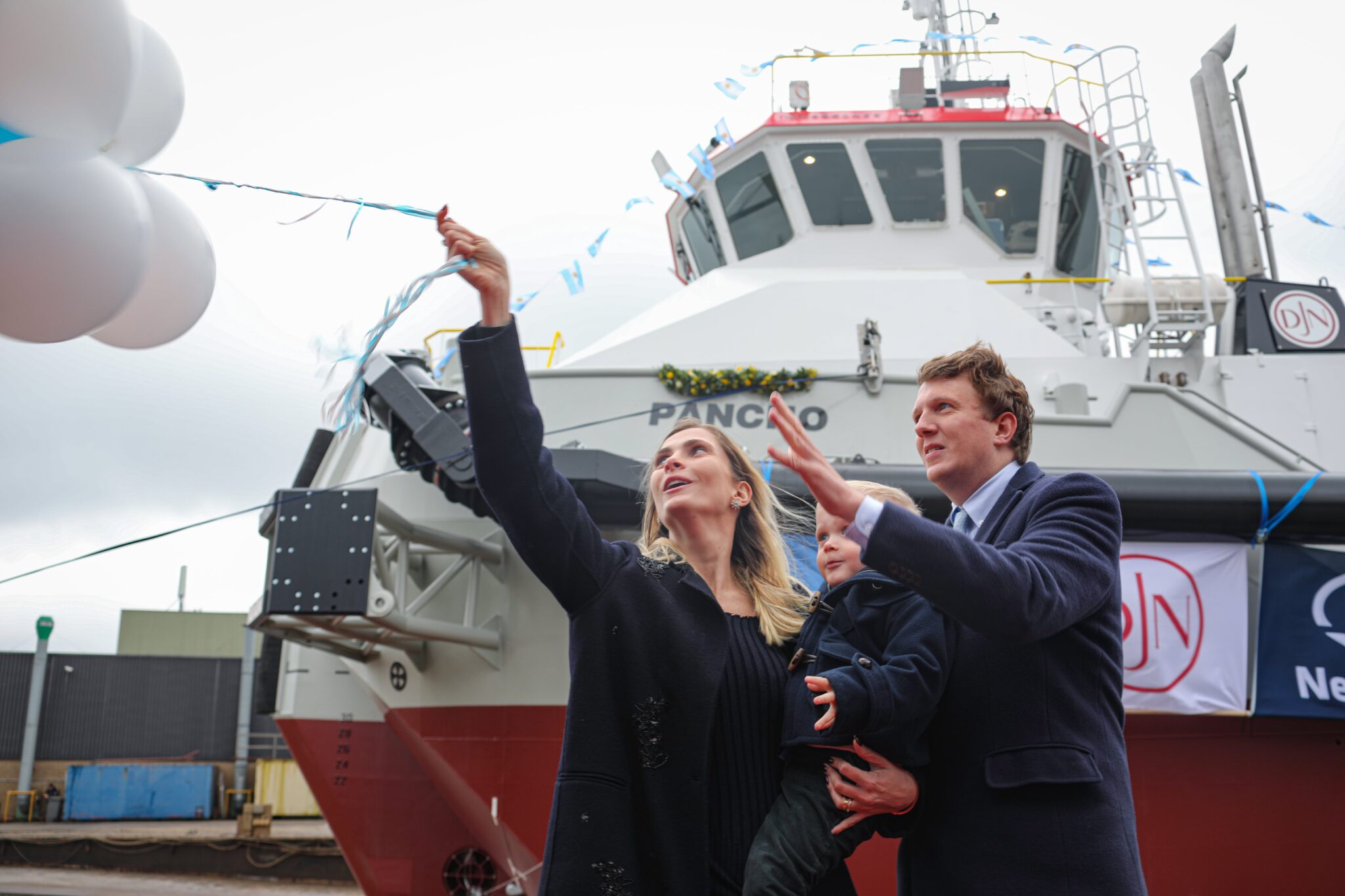 Jan De Nul Group's new water injection dredger Pancho was launched at the Neptune Marine shipyard in Aalst. The godmother of the vessel, Mrs. Sabrina Fontana Unzueta, partner of Mr. Pieter Jan De Nul, christened the vessel and wished it good luck and a good journey.
The design of this new build vessel is based on an existing vessel design from Neptune's workboat portfolio. Together with the engineering department of Neptune, Jan De Nul integrates its in-house built dredging equipment, including the dredge pump and dredge pipes, the winches, hydraulics and the necessary equipment for an adapted pipeline routing on the fore ship.
Jan Van de Velde, Head of the Newbuilding Department at Jan De Nul Group: "The experience with our existing fleet of water injection dredgers taught us that there was a need for a more compact vessel to reach the smaller corners in ports and rivers. However, despite her compact character, the Pancho has a depth range of more than 20 metres! Perfect for maintenance dredging. We are looking forward to the further completion of this new dredger together with the Neptune Marine Shipyard, with the intention of taking the Pancho into service in March 2022."
Martijn Schouten, responsible for sales within Neptune Marine's shipyard business: "We are proud to build for top player Jan De Nul, who is active all over the world. The knowledge and experience of the Newbuilding Department within Jan De Nul is impressive, and it was inspiring to come up with a dredger in a short time, based on an existing workboat design, that will distinguish itself in the market through its dredging performance and robustness. The construction has been efficient thanks to the excellent cooperation with and input from the Newbuilding Team of Jan De Nul, and we are looking forward to testing the vessel soon, so it can be put to work immediately afterwards."
Meanwhile, Jan De Nul ordered a second water injection dredger, with the same dimensions and characteristics, at our Neptune Marine yard.
The Pancho will be used mainly in the Argentine dredging market, hence the Spanish name. Pancho is Spanish for the first name 'Frans', which is the nickname of Jan Frans, two-year old son of Pieter Jan De Nul and Sabrina Fontana Unzueta. With this, Jan De Nul continues the tradition of naming the first ships of a certain type of dredging vessel after its family members.
Ideal dredging technique for maintenance in ports
A water injection dredger is smaller than a trailing suction hopper dredger and can therefore be better deployed in ports and rivers where the work area is often smaller. In water injection dredging, water is injected under low pressure into the subsoil, causing the soil material to move. This dredging technique is especially suitable for maintenance dredging in areas where sediments were recently deposited, or for moving fine sand over shorter distances.
Jan De Nul currently has 5 water injection dredging vessels in its fleet, including the Pancho and another sister vessel under construction at Neptune Marine in the Netherlands.
About Jan De Nul Group
Design. Build. Connect. Jan De Nul Group shapes water and land. Worldwide. From complex services to the offshore energy and energy transition sector, over large dredging and protections works on the edge of water and land, to challenging civil and environmental works. Well integrated competences and investments lead to creative, sustainable and innovative solutions. This is how Jan De Nul delivers results for satisfied customers. Today, but also tomorrow.
About Neptune Marine
Neptune is a specialized provider of marine solutions in the Netherlands. Our main activities are shipbuilding, ship repair, conversion, and (de)mobilization since our start in 1972. We deliver solutions for your maritime project from our locations in the Netherlands: Hardinxveld, Aalst and Groningen.