Neptune Marine supplies charter equipment for innovative pipe drilling project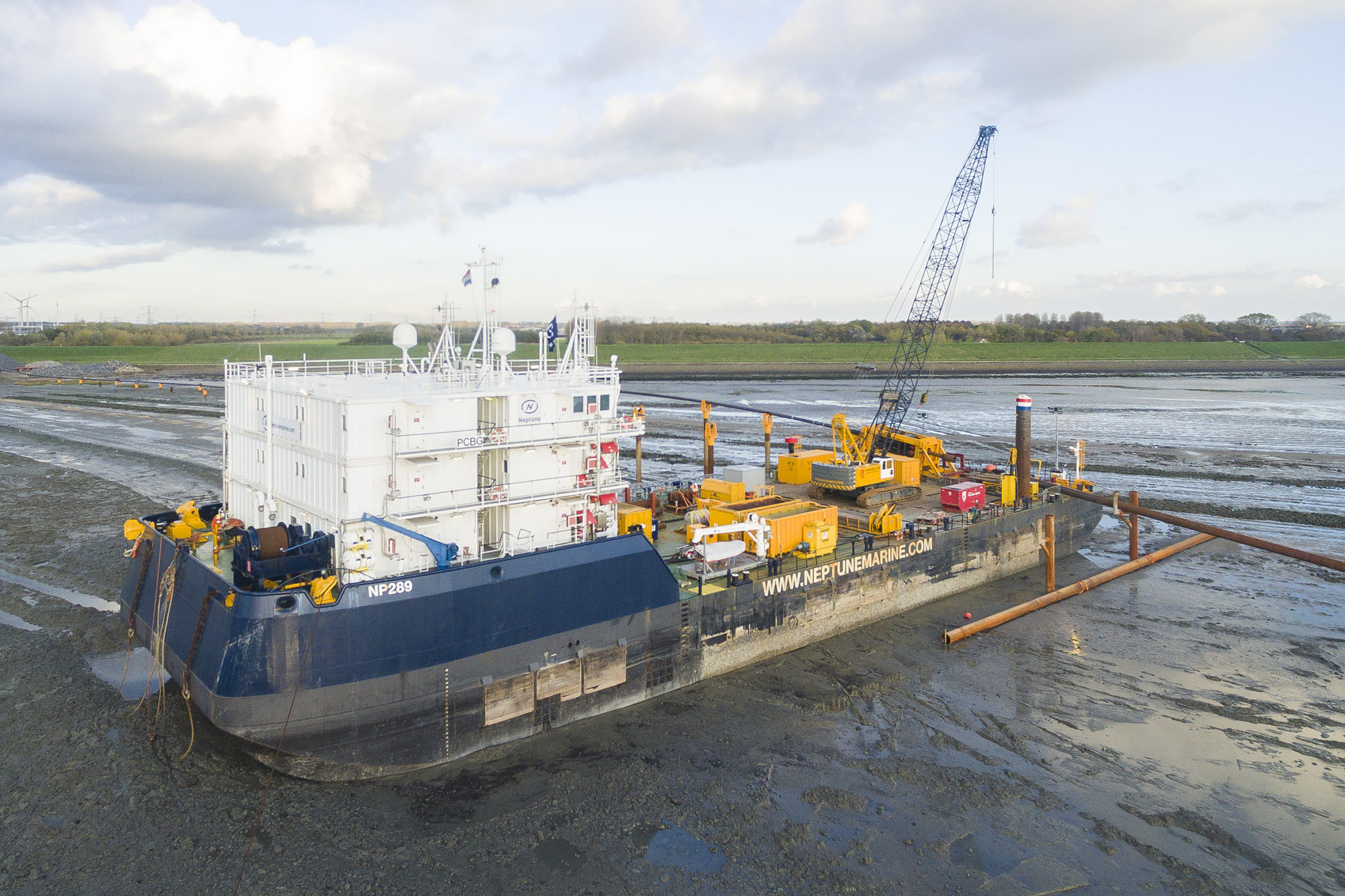 Neptune Marine, provider of marine equipment, chartered its multi-purpose pontoons NP 289 and NP 461 to Dutch drilling specialist VLCV BV, a joint-venture between C-Ventus and VL Specials. The versatile assets are used for an innovative pipe drilling project near the Dutch coast.
Dutch offshore wind
Alongside the Dutch coast offshore wind develops rapidly. As the Netherlands aim to contribute to the energy transition, various projects are currently under construction, including Borssele and Hollandse Kust. Both projects are expected to be operational by 2023.
Major challenges of the project location, Western Scheldt, are the tides and the structure of soils. Therefore, VLCV BV started looking for innovative solutions and fit for purpose equipment to deal with the challenging project requirements.
A new approach to drilling
VLCV BV successfully performed 2 Direct Drill's® in the Western Scheldt, for the installation of two DN 400 pipe connections. This provides a safe and robust system for the cable pull in of the two Borssele Beta 220 kV 350 MW grid connections commissioned by TenneT TSO B.V. later this year.
To execute these works, Neptune Marine rented out two of its multi-purpose pontoons for this project.
First the NP 289 was ballasted firmly aground on the mudflat to act as the operational basis for the drilling activities including the installation of casings and actual drilling operations of the two DN400 pipes. For that purpose drilling rigs, support equipment and a heavy crane were positioned on deck of the NP289. The accommodation facilities allowed for the complete team to remain onboard and focus on the execution of the project.
At the second stage, the NP 461 pontoon was chartered additionally. From this pontoon sheet piling activities started after installation of the bell mouths to support the installation of the Transition Pieces at the top end of the DN400 pipes.
The beaching capabilities of both multi-purpose pontoons make it the perfect asset to deal with the tides of the Western Scheldt.
Both pontoons are mobilized at Neptune's repair and mobilisation facilities in Hardinxveld-Giessendam, allowing for very short turn-around times and integration of systems and equipment.
"The NP289 was the ideal platform for the execution of this project, not only due to its specifications but also due to the complete accommodation and facilities onboard. Neptune has been very cooperative and supplied additional tools and resources we required during the project. The fact that we were able to use Neptune's yard during mobilisation and demobilisation has contributed to project efficiency. From the first discussions onwards and throughout the complete project the cooperation with Neptune has been professional, supportive and pleasant'' says VLCV BV.
Specialised charter equipment
Neptune Marine operates a fleet of charter equipment, including barges, multi-purpose pontoons, jack-ups and complimentary deck equipment.
The fleet of the marine service provider has grown to over 35 assets in any kinds or size. As Neptune Marine adheres to its mission to be a flexible and reliable marine service provider for its clients, most marine equipment can be chartered both short- and long-term. Additionally, clients are offered complementary services, as for example (de)mobilisation or additional deck equipment charter.
Contractors and marine operators charter Neptune's marine equipment for all kinds of projects, including offshore wind cable projects, civil construction and transport operations.
About C-Ventus / Van Leeuwen
VLCV BV, a specialist company which will supply turnkey projects requiring a combination of marine and subsea activities and trenchless technologies. VLCV BV is a joint-venture between VL Specials and C-Ventus Offshore Windfarm Services BV.
VL Specials, part of Gebr. Van Leeuwen Boringen BV, is a land-based drilling specialist and construction firm which specializes in trenchless installation of pipelines and cables and provides subsurface construction solutions for the installation of infrastructural networks, conduits which carry electric cables and pipelines for carrying (sewage) water, gas, oil and other products.
C-Ventus Offshore Windfarm Services BV, part of DISA International, is a dedicated service provider with specialist knowledge in offshore windfarm installation, operations and maintenance (O&M) and decommissioning.
About Neptune Marine
Neptune Marine offers a broad range of maritime solutions, including newbuilding, repair, equipment charter and other complementary services. We work with our clients and suppliers to create and deliver solutions that are versatile, innovative and reliable.
Neptune Marine operates from three locations in the Netherlands; Hardinxveld, Aalst and Groningen.
Neptune – "Marine solutions that work for you"