Delivery of Neptune Marine Service BV for the new bridge project on the Larivot River in French Guiana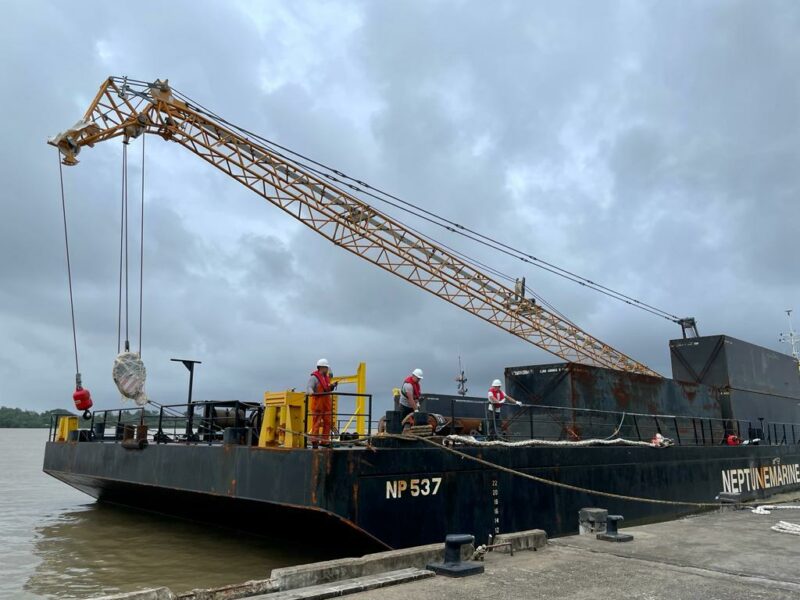 PROJET DU NOUVEAU PONT LARIVOT Larivot – French Guiana
In French Guiana, the New Larivot Bridge Project aims to ease the traffic on the existing bridge. To solve part of the problem, the construction of the second bridge is launched, next to the current one, which will remain in service. The new bridge will carry road traffic from Cayenne to Kourou, as well as a two-way greenway (pedestrians, bicycles).
To carry out this large-scale project, VINCI called on the services of Neptune Marine Service BV. Thus, Neptune Marine is delivering 5 EuroPontoons with various deck equipment and 2 EuroCarriers
EuroPontoons :
Oslo 76 x 24  meters
NP540 60 x 22 meters
NP586 50 x 19 meters
NP549 60 x 22 meters
NP537 50 x 17 meters
EuroCarriers
EuroCarrier 2611 Neptune Mariner
EuroCarrier 2209 Neptun Viking
4 of the barges are also equipped with crawler cranes
Cranes:
Liebherr LR1100
Liebher LR1300
Liebherr HS 8200 HD
Sennebogen 7700
Neptune Marine is proud to be part of the new bridge project on the Larivot River, a major infrastructure project in French Guiana.
About Neptune Marine 
Neptune is a specialized supplier of marine solutions in the Netherlands. Our main activities are shipbuilding, ship repair, conversion, and mobilisation since our start in 1972. We deliver solutions for your maritime project from our locations in the Netherlands: Hardinxveld, Aalst and Groningen.
We design, build, repair, convert and mobilise vessels and equipment for the maritime industry including offshore, renewables, marine infrastructure and aquaculture. It is our aim to offer you the best solution through creativity, cooperation and flexibility. In other words, we work together.
Neptune – ''Marine solutions that work for you''