Neptune Marine builds twin modular EuroCarrier 1205 for Jifmar Offshore Services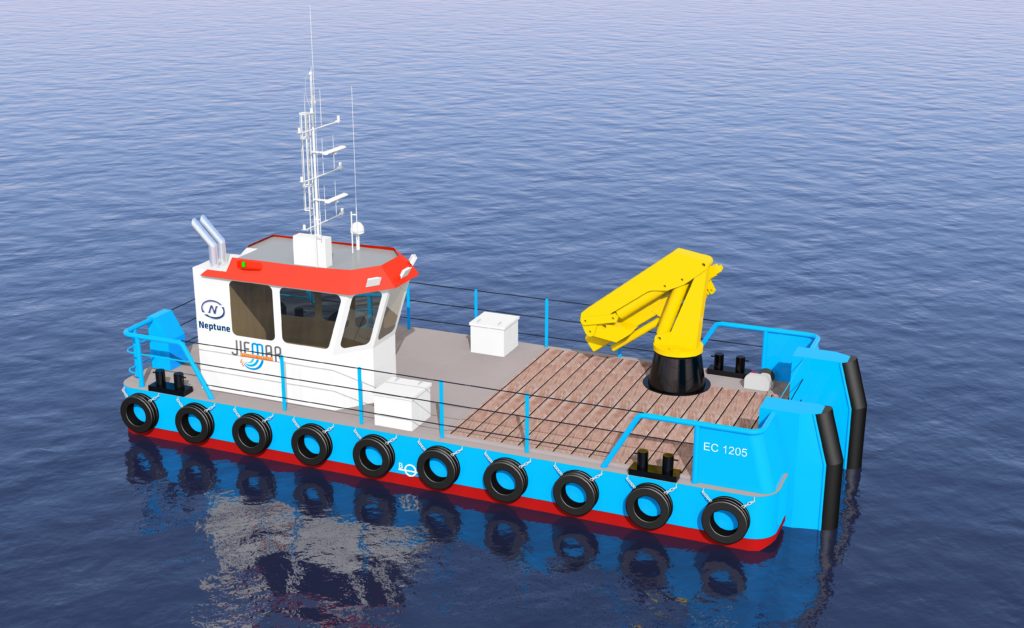 Jifmar Offshore Services, based in France, has ordered two modular EuroCarrier 1205. Both newbuild workboats will be deployed for nearshore and civil construction operations. Delivery is scheduled for summer 2019.
A flexible and versatile design
"The EuroCarrier 1205 is the result of feedback of our clients along the years," says Jifmar. The vessels, which will be mainly used by Jifmar for civil construction operations, are customized to meet all operational requirements. In addition to the modular design, which makes it road transportable, the 12-metre workboats feature a 10T deck crane, 4-point mooring system, moonpool and IMO Tier III compliant engines.
Both workboats are built at Neptune Marine's facilities in Aalst, The Netherlands. Through an efficient and integrated production process, Neptune Marine is able to deliver the vessels within a short time frame.
Long-term cooperation
Over the years Neptune Marine has delivered numerous vessels to Jifmar, including the Roxane Z and Jif Challenger. Both EuroCarriers 3413, equipped with a DP2 system, are used around the world for various offshore operations. In 2017, Neptune Marine also delivered a new EuroCarrier 2712, called Jif Marlin, to Jifmar. In addition to its extensive range of EuroCarrier multi-purpose workboats, the French offshore services provider also operates an accommodation barge and high-speed crew transfer vessel, both built by Neptune.
About Jifmar Offshore Services
Founded in 2005, Jifmar Offshore Services offers integrated maritime solutions by offering cutting-edge maritime offshore oil & gas services and marine and subsea solutions for the offshore wind industry. Its turnkey solutions for the development, installation and Operations & Maintenance of infrastructures at sea, include vessels and expertise for all operations from site characterization to installation and hookup of floating wind turbines. One of its recent projects is the installation of the first floating wind turbine in France.
Jifmar anticipates the requirements of its customers and strives for excellence through material means and a structured organization implemented to meet their needs.
Jifmar Offshore Services is headquartered in Aix-en-Provence, France and has subsidiaries including VDC in Northern France, North West Marine in Scotland, Houston, Texas and others in Africa as Gabon, Congo.
About Neptune Marine
Neptune is a specialized supplier of marine solutions in the Netherlands. Our main activities are shipbuilding, ship repair, conversion, charter and mobilization since our start in 1972. We deliver solutions for your maritime project from our locations in the Netherlands: Hardinxveld, Aalst and Groningen.
We design, build, repair, convert, charter and mobilize vessels and equipment for the maritime industry including offshore, renewables, marine infrastructure and aquaculture. It is our aim to offer you the best solution through creativity, cooperation and flexibility. In other words, we work together.