Neptune Marine delivers EuroCarrier 2209 to Severn Offshore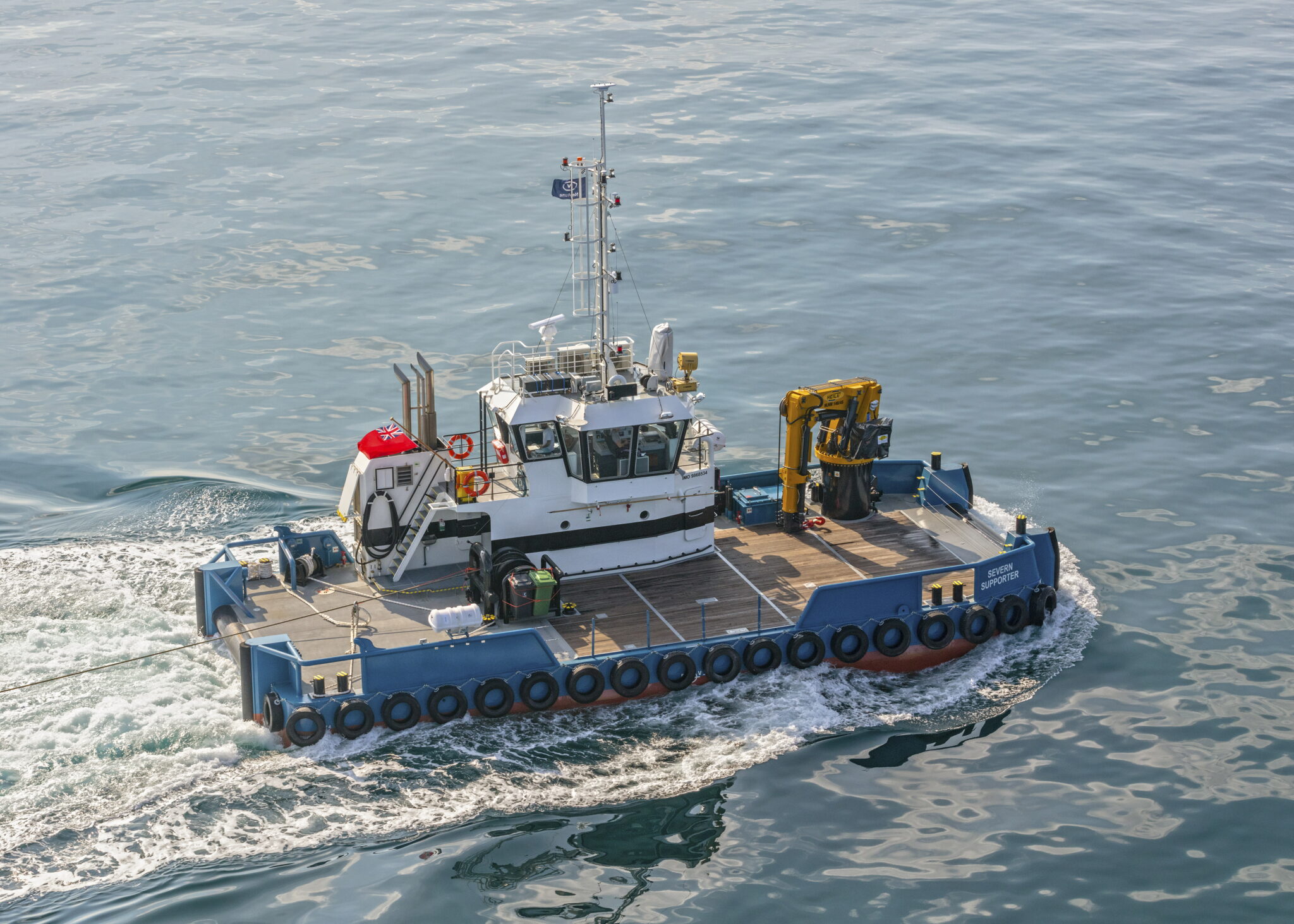 Neptune Marine successfully delivered a EuroCarrier 2209 to Severn Offshore. The multi-purpose workboat, which has proven itself to be very successful in many industries, was delivered in less than 6 months after contract. Shortly after delivery, the vessel completed its first project, the towage of Neptune Marine's EuroPontoon 3011 to Frederikshaven, Denmark.
Expansion of activities
Severn Offshore has been active in the offshore energy industry for over five years. Due to its successful crew transfer operations, the marine service provider is now expanding to multi-purpose workboats. After careful consideration Severn Offshore has decided to add a EuroCarrier 2209 to its fleet.
The EuroCarrier 2209 is a medium-sized workboat, which has proven its capabilities and strengths throughout the years. Operators around the world, from Canada to Scotland, are using the powerful and compact vessel for a variety of operations, including dredging, aquaculture support and anchor handling.
Multi-purpose by heart
Neptune Marine delivers custom workboats to its clients, as it is also the case with the Severn Supporter. To comply with Severn Offshore requirements, the EuroCarrier has been expanded with a 25 tons A-frame, including dredging plough. Additionally, the standard specification of the vessel covers all required equipment, including a Heila HLRM 140-4S deck crane, 50 tons anchor handling winch and comfortable accommodation for 4 people.
The Severn Supporter is equipped with 2 Caterpillar engines to be able to deliver a bollard pull of approximately 15 tons.
A series of Dutch quality vessels
"We were keen to have a vessel, which is entirely built in the Netherlands. As one of the leading Dutch shipbuilders, Neptune Marine could clearly offer what we were looking for" says Ryan Hopkins, managing director of Severn Offshore Services. "Throughout the project, Neptune Marine has been very supportive to include our requirements in the vessel to deliver a custom design for our operations."
"Neptune Marine is proud to deliver yet another EuroCarrier 2209. Over the years, more than thirty EuroCarriers have been built in the Netherlands, whereby Neptune Marine strives to continuously develop its vessels, in order to exceed the industry's standards" concludes Neptune
Marine.
About Severn Offshore
Severn Offshore operates a growing fleet of high-speed offshore crew transfer vessels and multi-purpose workboats, that service the offshore renewable energy and offshore oil and gas sectors. These services include but are not limited to, Construction Support, Operation and Maintenance Phases, Guard/ Chase Vessel Responsibilities and Dive and ROV Facilitation.
Severn Offshore is based in Cardiff, United Kingdom.
About Neptune Marine
Neptune is a specialized supplier of marine solutions in the Netherlands. Our main activities are shipbuilding, ship repair, conversion, and mobilization since our start in 1972. We deliver solutions for your maritime project from our locations in the Netherlands: Hardinxveld, Aalst and Groningen.
We design, build, repair, convert and mobilize vessels and equipment for the maritime industry including offshore, renewables, marine infrastructure and aquaculture. It is our aim to offer you the best solution through creativity, cooperation and flexibility. In other words, we work together.
Neptune – Marine solutions that work for you