Neptune Marine has delivered a EuroTractorTug 2410 named Condor to Verbeke Shipping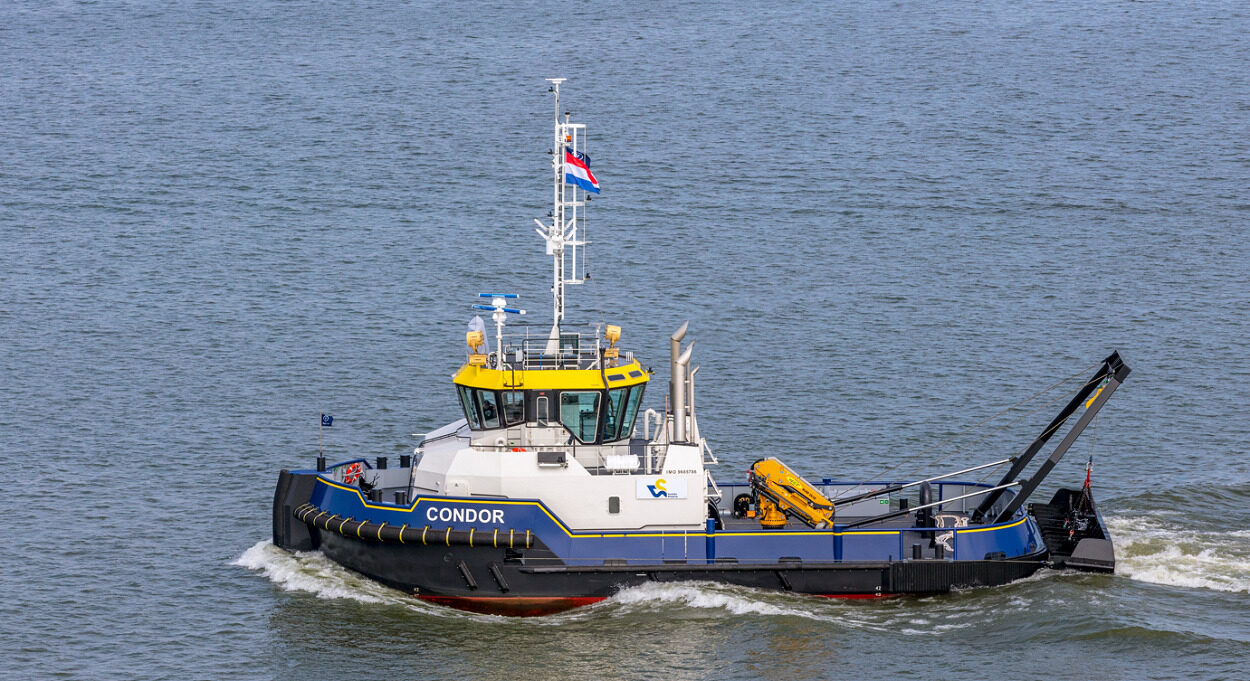 The Condor is recently delivered to Verbeke Shipping. Neptune Marine has a long-standing relationship with Verbeke Shipping, which has been strengthened by building the Condor. The vessel is 24 m long, 10 m wide and the draft is approximately 4 meters. The vessel is equipped with powerful IMO Tier 3 engines, which reduces emissions.
The Condor
The new EuroTractorTug 2410, named Condor has been completely built in the Netherlands by Neptune Shipyards in Aalst. Within 14 months the Condor went from drawing to sailing. The Condor is a harbour assistance tug with optimum manoeuvrability. The vessel can be used for plough work and because of an efficient a-frame, she can be mobilised immediately for quick response jobs.
The Condor is equipped with two Caterpillar C32 main engines, which generate 970 kW propulsion power and two Volvo D7A generator sets. During the bollard pull the vessel reached  27 tons bollard pull and a maximum speed of over 11 knots. The vessel is equipped with Voith propellers, to create excellent manoeuvring capabilities. The Condor is outfitted with a 60 tons towing winch, an a-frame with dredging plough and a compact deck crane.
The Condor is classed by Bureau Veritas and delivered with a Dutch flag.
About Verbeke Shipping BV
Verbeke Shipping is a family owned business, led by Marnix Verbeke with his two sons Ryan & Andy Verbeke. The Verbeke family was previously performing bunkering operations, known as "Verbeke Bunkering".
"The new EuroTractorTug will be our fifth addition to the fleet. The vessel is named in respect to our great grandfather who owned a tugboat in the early 1900's which was also named Condor."
Verbeke Shipping is based in Antwerp, Belgium.
About Neptune Marine
Neptune is a specialized supplier of marine solutions in the Netherlands. Our main activities are shipbuilding, ship repair, conversion, and mobilisation since our start in 1972. We deliver solutions for your maritime project from our locations in the Netherlands: Hardinxveld, Aalst and Groningen.
We design, build, repair, convert and mobilise vessels and equipment for the maritime industry including offshore, renewables, marine infrastructure and aquaculture. It is our aim to offer the best solution through creativity, cooperation and flexibility. In other words, we work together.
Neptune – "Marine solutions that work for you"