Neptune Marine has delivered a EuroCarrier 2611 named Tidal Pioneer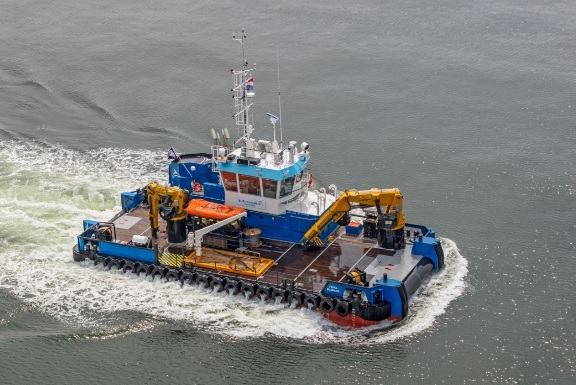 The Tidal Pioneer is recently delivered to Sustainable Marine. The Tidal Pioneer is a Neptune Marine built EuroCarrier 2611. The vessel is 26 m long, 11 m wide and the draft is approximately 3,2 m. The Tidal Pioneer is a Tier III compliant vessel.
Tidal Pioneer
The new EuroCarrier 2611 is fully fit for purpose for the Canadian renewable energy market. The vessel will mainly be used in the building and maintenance of tidal energy projects in Nova Scotia. The vessel is outfitted with a powerful 4 point mooring system, for operation in currents of 7 knots.
The complete vessel, including the hull, has been built in the Netherlands by Neptune Shipyards. Both the assembly of the hull and outfitting has been performed at the yard in Aalst.
The vessel is equipped with two C32 caterpillars main engines, two Volvo D13 generator sets and a DPI system.  The engines drive two 1,85 meter propellers through Masson gearboxes. During the bollard pull the vessel reached a 34,7 tonne bollard pull and a speed of 10,3 knots. For electric power the vessel is equipped with two IMO Tier III compliant Volvo D13 generator sets. A Heila 230-4SL deck crane is fitted on PS at the bow and a Heila 140-3S at the aft deck. Also a 100 tons anchor handling winch, a 50 tons towing winch, a 15 tons tugger winch and a 25 tons 4 point mooring system. In the bow a wide bowroller is fitted in combination with hydraulically operated wire-guide pins.
The Tidal Pioneer is classed by Bureau Veritas and delivered with Canadian flag.
About Neptune Marine 
Neptune is a specialized supplier of marine solutions in the Netherlands. Our main activities are shipbuilding, ship repair, conversion, and mobilisation since our start in 1972. We deliver solutions for your maritime project from our locations in the Netherlands: Hardinxveld, Aalst and Groningen.
We design, build, repair, convert and mobilise vessels and equipment for the maritime industry including offshore, renewables, marine infrastructure and aquaculture. It is our aim to offer you the best solution through creativity, cooperation and flexibility. In other words, we work together.
Neptune – ''Marine solutions that work for you''