Neptune Marine receives order from Verbeke Shipping for new EuroTractorTug 2410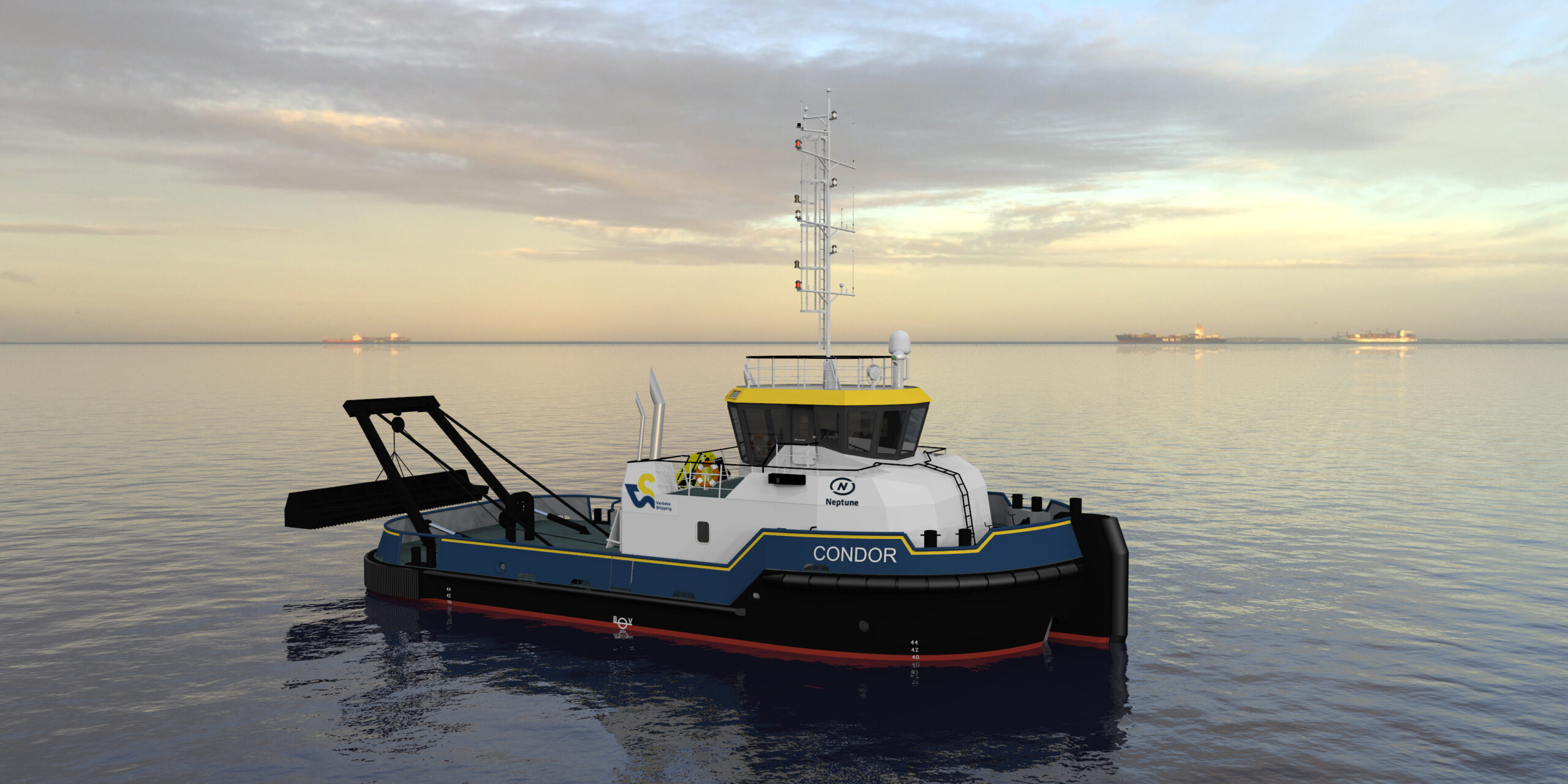 Neptune Marine has strengthened its long-lasting relationship with Verbeke Shipping with an order from Belgium-based Verbeke Shipping for the design and construction of a new multi-purpose tugboat, the EuroTractorTug 2410. The vessel will be entirely built in the Netherlands. Delivery is scheduled for mid 2021.
Custom design
The EuroTractorTug 2410 is based on the proven EuroTug design. To design a vessel that complies with Verbeke's requirements and Belgian flag state, Neptune Marine has developed a multi-purpose tug in close collaboration with the operator. To create excellent manoeuvring capabilities, the vessel uses Voith propellers.
Verbeke Shipping and Neptune Marine share a common goal to develop innovative and sustainable products and services. As a result, the newbuild tug is equipped with powerful IMO Tier 3 engines. The use of those cleaner engines reduces emissions of the EuroTractorTug significantly, whilst offering reliable performance.
While being a small family business our goal is always to invest in the future. We thought about many possibilities to continue our journey in shipping. Along the way we contacted Neptune Marine to speak about our ideas and preferences. In less than 6 months we came to agreement to build this unique Eurotug with Voith propellers.
In addition, the vessel will be outfitted with a compact deck crane, anchor handling winch and an A-frame with dredging plough.
Dutch quality
In July the keel-laying ceremony took place at the shipyard in Aalst, the Netherlands. At this location, Neptune Marine started with the construction of workboats over 20 years ago.
The EuroTractorTug will be constructed at its location in the Netherlands in close collaboration with its subcontractors, which whom it holds long-term relationships. By using expertise of specialized marine suppliers, Neptune Marine strives to continuously develop its vessels, in order to exceed the industry's standards.
Verbeke Shipping is glad to collaborate with Neptune Marine that the Eurotug will be a 100% Dutch build. We already saw in the early stages the unique and strong structure of Neptune Marine. They provide ideas ,solutions and alternatives when necessary which we very much appreciate. It's nice to have such a great team effort from both parties. Keeping in mind Antwerp (BE) – Aalst (NL) is just an hour away when something occurs.
About Verbeke Shipping BV
Verbeke Shipping is a family owned business. Lead by Marnix Verbeke with his two sons Ryan & Andy Verbeke. The Verbeke family previously was into bunkering. Known as "Verbeke Bunkering".
While in 2010 we changed our course and Verbeke Shipping started operating in towage and dredging & plough activities.
We kept on growing and after more than 10 years we have 4 multipurpose vessels and one flat top barge (also build by Neptune Marine) in our possession. The new EuroTug will be the fifth addition to our fleet, which will be named Condor. In respect to our great grandfather who owned a tugboat in the early 1900 which was also named Condor. For more details and enquiries take a look at www.verbekeshipping.be.
Verbeke Shipping is based in Antwerp, Belgium.
About Neptune Marine
Neptune is a specialized supplier of marine solutions in the Netherlands. Our main activities are shipbuilding, ship repair, conversion, and mobilisation since our start in 1972. We deliver solutions for your maritime project from our locations in the Netherlands: Hardinxveld, Aalst and Groningen.
We design, build, repair, convert and mobilise vessels and equipment for the maritime industry including offshore, renewables, marine infrastructure and aquaculture. It is our aim to offer the best solution through creativity, cooperation and flexibility. In other words, we work together.
Neptune – "Marine solutions that work for you"