Looking for the right partner when it comes to shipbuilding? Then do not look further! Neptune Marine is your partner for shipbuilding, ship repair and equipment charter. As a specialised provider of marine solutions, we are able to build standard and custom-made vessels. Our organisation has been active in the shipbuilding market since 1972 and is able to deliver solutions for all your maritime project from our locations in the Netherlands.
Would you like to know what we can do for you? Let's get in touch! Contact us here.
Shipbuilding | Marine solutions that work for you!
Neptune Marine has been active for several years, which has enabled us to gain a lot of experience in shipbuilding. Next to shipbuilding we are also active in ship repair, conversion, and mobilisation. We do not only do this for the maritime industry, but also serve customers in the offshore, renewables, marine infrastructure, and aquaculture markets. We always strive to provide our customers with the best solutions possible. We do this by working together, combining our creativity and ideas, which result in the best projects. Have a look at the markets we operate in.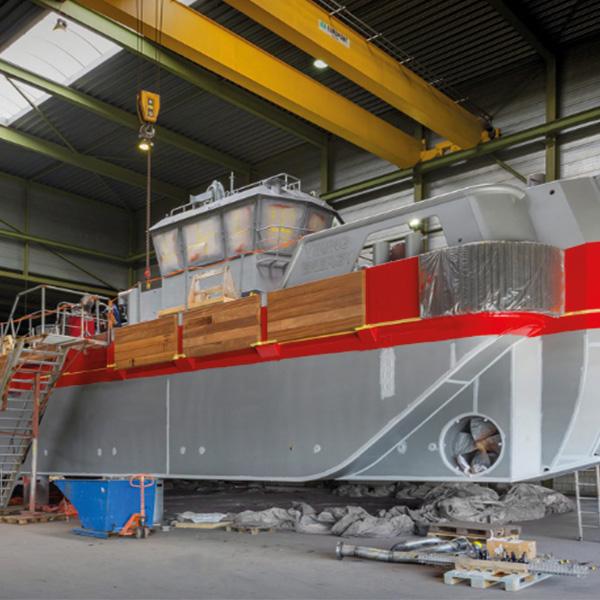 Neptune Marine has an extensive portfolio of standard and custom newbuild products that can be delivered within a short amount of time. Our portfolio consists out of: EuroDredgers, EuroCarousels, EuroCarriers, EuroTugs, EuroPontoons, EuroJack-ups, EuroSupporters, EuroHoppers, Harbour tugboats, Crewtenders, Cargo Vessels, Modular Solutions and Aquaculture vessels. We do this in our three yards in the Netherlands; two in Hardinxveld and one at Aalst. All of our yards are conveniently close to the Port of Rotterdam and easily accessible from all major European waterways. Sounds good right!
How can we help you?
Choose us as your partner in shipbuilding and we will not let you down! Leave a message in our contact form and we will answer your questions as soon as possible. We are looking forward to getting in touch with you!