Neptune Marine launches power cable transport barge for NKT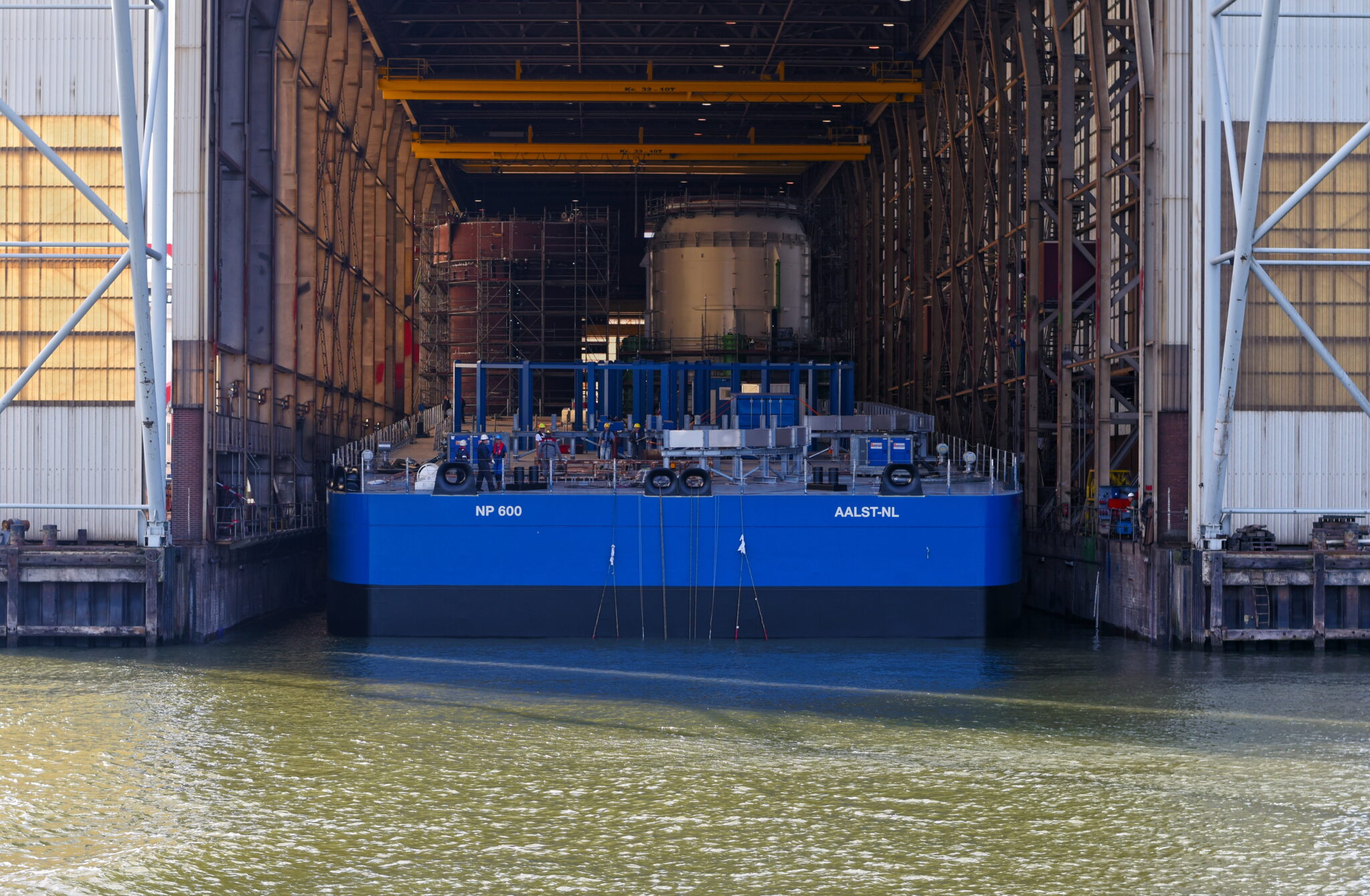 Neptune Marine launched the custom design cable transport barge for the leading Danish power cable solution provider NKT. The shallow draft pontoon has been built at Neptune's shipyard in Hardinxveld. The barge, including bespoke cable carousel, will be used to transport power cables from NKT facilities in Germany to the Dutch sea ports.
Challenges
As a supplier of power cables for the growing offshore energy industry, the transport of power cables is vital for the NKT operations. Due to the changing environmental conditions on Europe's inland waterways NKT was looking for a solution to transport its power cables throughout the year in an efficient way.
Neptune Marine designed a transport barge with integrated cable carousel to offer NKT the opportunity to carry several thousand tonnes of cables.
Design and integration
The cable transport barge is the result of the successful collaboration between Neptune Marine and NKT. By combining the shipbuilding knowledge of Neptune and operational expertise of NKT a unique pontoon has been engineered.
The EuroCablePontoon 10022 is a shallow-draft design which can be used in lower water depth in a loaded condition. To guarantee the main dimensions of the pontoon, the engineering department of Neptune Marine did an extensive design check to calculate all critical parts of the design, including the integration of the cable transport equipment onboard.
To operate safely and in accordance with regulations, the pontoon is certified by Bureau Veritas and relevant inland certification bodies.
Integrated production
Neptune Marine has built the pontoon at its shipyard in Hardinxveld-Giessendam. The location, near the Merwede river, allows Neptune to build vessels and marine equipment in covered facilities up to 160 meters.
Additionally, Neptune has invested over the years to ensure the quality standards in all its products and services. The developments allow Neptune to deliver integrated production to its clients by using welding robots and ISO 9001 and SCC** practices.
About NKT
NKT is a leading turnkey power cable solutions provider to the energy sector supporting the green transition of societies. NKT is headquartered in Copenhagen, Denmark.
About Neptune Marine
Neptune Marine offers a broad range of maritime solutions, including newbuilding, repair, equipment charter and other complementary services. We work with our clients and suppliers to create and deliver solutions that are robust, innovative and sustainable.
Neptune Marine operates from three locations in the Netherlands; Hardinxveld, Aalst and Groningen.
Neptune – Marine solutions that work for you