Neptune Marine wins order from DBB Salvage for two EuroCarrier 2495 multi-purpose workboats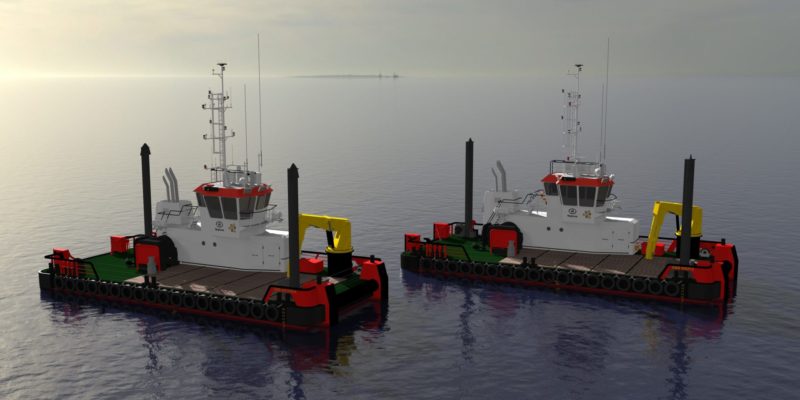 Neptune Marine has won an order from Danish salvage and towage company DBB Salvage for two multi-purpose workboats. Neptune Marine will construct the boats at its facility in Aalst, the Netherlands, to its in-house EuroCarrier 2495 design. Delivery is scheduled for June and July 2019 and the vessels are intended for use primarily on construction projects.
The EuroCarrier 2495 is a robust design and since its introduction has proved to be popular with workboat operators with an impressive track-record of versatility and reliability. With standard equipment including a sturdy crane and both towing / anchor handling and tugger winches, it comes ready for a wide range of activities including anchor handling, dredging support and general support services.
"With our business moving from mainly heavy lift operations to focus on building projects in Scandinavia and the Baltic area we have a need for specialised workboats," says Jesper Hald, COO at DBB Salvage A/S. "We took a close look at the market and concluded that the EuroCarrier 2495 is the type most suitable for our customer profile, and easy to incorporate into our current fleet." The EuroCarriers' first assignment will be assisting DBB Dredging Co. with marine excavation contracts in the Baltic, with further projects at the planning stage.
To comply with Danish Flag State rules, Neptune is making a series of modifications including upgrades to the sleeping accommodation such as full en-suite shower rooms and changing the layout of the living area on the main deck to add two new entrances, a changing room and a direct stairway to the bridge.
DBB has also specified its own package of additional equipment, comprised of its in-house system of twin hydraulic spudlegs for use in depths of to 12 metres, moonpools for the deployment of equipment for multi-beam surveys and USBL tracking, A-frames, special fendering, enlarged propellers to increase the bollard pull and the upgrades required to achieve tug notation.
"Our decision was also influenced by the performance of our current Neptune vessel, OBELIX, a EuroTug 2710," concludes Jesper Hald. "In her latest role she has proved to be a high-standard, mini supply vessel, capable of managing everything from cargo movements, anchor handling, and fuel and water supply to ROV operations and, of course, normal towing activities. Moreover, the yard has always worked closely with us to ensure our satisfaction. We value the strong rapport that we have with the team there."
About DBB Salvage
DBB Salvage A/S offers marine services, including anchor handling, dredging support and towing, in the Scandinavian and Baltic area. Many years of experience in salvage, heavy lift and towing operations all over Europe enables DBB Salvage A/S to offer highly skilled and qualified solutions.
DBB Salvage A/S is based in Aarhus, Denmark.
About Neptune Marine
Neptune is a specialized supplier of marine solutions in the Netherlands. Our main activities are shipbuilding, ship repair, conversion, and mobilization since our start in 1972. We deliver solutions for your maritime project from our locations in the Netherlands: Hardinxveld, Aalst and Groningen.
We design, build, repair, convert and mobilize vessels and equipment for the maritime industry including offshore, renewables, marine infrastructure and aquaculture. It is our aim to offer you the best solution through creativity, cooperation and flexibility. In other words, we work together.
Neptune – Marine solutions that work for you