Are you searching for Liebherr equipment in order to help you with your project? Neptune Marine offers turnkey crawler cranes, available for charter on various pontoons. We collaborate with our clients and suppliers to create and deliver solutions that are versatile, innovative, and reliable.
Have a look at our products that are directly available on this page.
Liebherr equipment | Crawler Crane
In our assortment we have crawler cranes of the brand Liebherr. Our Liebherr equipment exists out several types of cranes among which the LR 1500, that distinguishes itself with high performance and very compact design. It has lifting capacities up to 400 tonnes. We also have the LR 1200 in our assortment, which is capable of lifting capacities up to 220 tonnes. Both crawler cranes can lift an enormous amount of weight because of the particularly solid boom and jib system. For further information regarding our products, please contact us.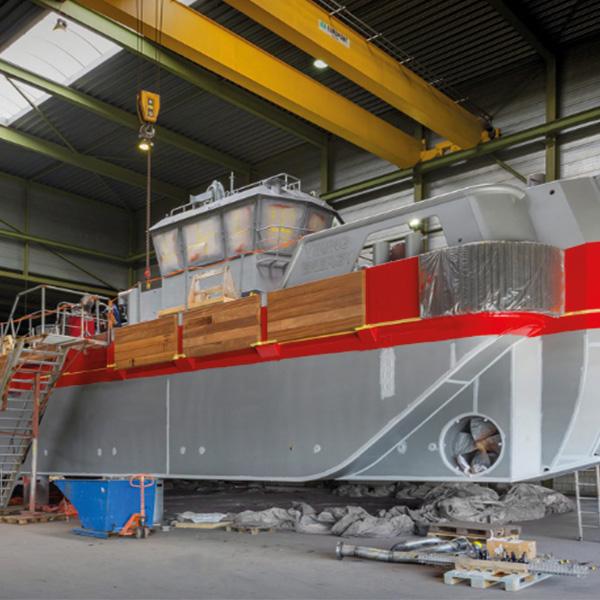 Since 1972, Neptune Marine has been a specialised provider of marine solutions in the Netherlands. During the years, our company has expanded, and we deliver solutions for your maritime project from our locations in Hardinxveld, Aalst and Groningen. Our main activities are shipbuilding, ship repair, conversion, and demobilisation. Next to that we also offer charter equipment, including pontoons and deck equipment, to operators and contractors we are able to deliver solutions for any kind of project. This way our customers will not have to make an investment for the equipment of short-term projects.
Let's get in touch!
Would you like to receive more information regarding our Liebherr equipment? Please do not hesitate to contact us. We will be happy to answer all your questions and come up with a suitable solution for your project.